Tributes
Many amateurs through their careers made a definite mark upon other operators and the amateur radio hobby as a whole, to those we dedicate this section of our site.
Oscar Hierlihy VO1DI written by Charlie VO1VZ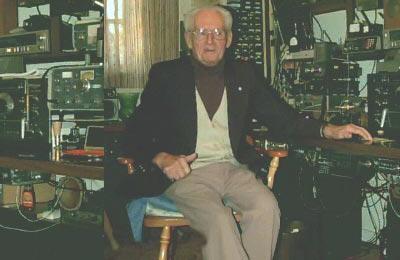 When Ken VO1ST, Diane VO1TJ and Cleo asked if I would like to visit Oscar Hierlihy at his home in Manuels, I quickly accepted the invitation.
From the minute Oscar and his lovely wife, Joan, met us at the door, I felt most welcome, as if I had visited before. Oscar ushered us to his shack and spent at least a half hour showing us his radio equipment, most of it homebuilt. Made me wish I had his technical know how.
Oscar was first licensed in 1932 as VO1I and held other calls as he changed residence in Newfoundland. He received the VO1DI call sign when Newfoundland went to a single zone in the 1950's.
I could never do justice in a short article on Oscar's lifelong involvement in radio. For interesting reading, get a copy of his book Memoirs of a Newfoundland Pioneer in Radio and Television. It relates a very interesting history of his life in communications. This book was published on his 83rd birthday last year. Well done, Oscar!
Oscar was awarded the Order of Canada in 1991, a testament to his contribution in Newfoundland communications over the years. He has also received the Canadian Amateur Radio Hall of Fame Award of Honours.
Before leaving I was honoured to sign his Guest Book. I will be back again Oscar before too long. Thanks for an interesting Sunday afternoon.
73 from Charlie VO1VZ
PS: Sadly, on December 18th, 1996, Oscar Hierlihy VO1DI passed away. This page will serve as a tribute to Oscar on our Web page.
He will be missed.

Arthur Augustus Rockwood - VO1AX (1946-2002) by Roly Peddle
We were all shocked and saddened to hear of the passing of Art Rockwood, VO1AX, on August 18th., 2002. Art passed away in Montreal, from a lengthy illness similar to Lou Gehrig's Disease, involving neurological degeneration. The news came as a shock to me, as I had known Art from the time he was a young child., when I used to visit his dad, Walter, VO1AG on Liverpool Avenue, in St. John's.
Art was well-known, not only to his friends in amateur radio, but to a larger circle of listeners to C.B.C. Radio in Newfoundland. Art began his amateur radio career at an early age in 1964, when he was first licensed as VO1AX and living at home in Heart's Content. I well remember visiting his shack, up in a dormer room in the family home at Heart's Content. If I remember correctly, he was using a Marconi CR-100 receiver passed on to him by his father, Walter VO1AG, and a home-brew CW transmitter.
Art was a faithful member of SONRA, and made a great contribution to amateur radio in Newfoundland, by conducting classes in radio for Amateur Radio Certificates at the (then) College of Trades and Technology for many years. Many VO amateurs owe their amateur certification to his teaching. In addition to being active on the amateur bands, Art became active early on in the field of computers and digital modes.
Art began his career in commercial radio at CKCM in Grand Falls. Later he moved to the C.B.C., at CBG in Gander, and subsequently to CBN Radio in St. John's and soon became a very successful announcer and producer, hosting a number of popular program, perhaps the most popular of which was his trivia program.
Art will, indeed, be long remembered by Newfoundland radio amateurs, and by his faithful listeners to C.B.C. Radio in Newfoundland
Respectfully submitted,
Roly Peddle, VO1BD, VE6RL