Welcome to the home of the Society of Newfoundland Radio Amateurs!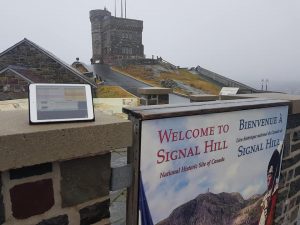 SONRA partners include Parks Canada and Fire & Emergency Services NL. Members participate in various events and contests during the year such as Field Day and International Marconi Day. The club operates stations at historic Signal Hill (where the first transatlantic wireless transmission was received by Marconi!) and the Admiralty House Museum, and maintains local radio repeaters.
Guests are welcome and encouraged at most of our events! We love getting out in the community to show what ham radio is all about, and how we can be of assistance in emergencies. You may even want to become a member yourself! Regardless, knowing an amateur radio operator in your neighbourhood – or how to spot one – can be crucial in an emergency situation.
To see what's on the go, visit our News page or Facebook!
If you're wondering what amateur radio is all about, click here.