Tag Archives:
vo1bt
A new, more powerful, weather radar has been built to replace an existing one at Holyrood.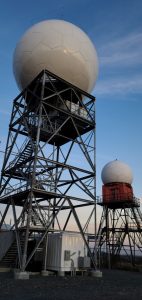 RF Hazard signs have been placed on the two towers at VO1BT. The rf radiation levels are safe at ground level but can exceed acceptable limits while climbing.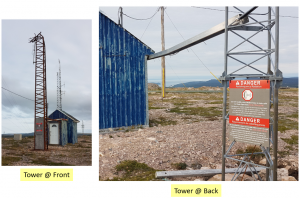 Click for a picture of the warning signs: Tower RF Hazard Sign 36h x 24w VER201809A
Before climbing the tower contact the number on the sign so that the weather radar may be made safe. Advance notice is required and a Call Before You Climb procedure must be followed as laid out on the left side of the following document: 20181206 – CBYC Procedure V1.0
The RF energy at ground level is safe. The exposure risk is only when entering the path of the radar antenna beam. The hazard begins at 304 MSL.
A big thank you to the crew who volunteered their time to get the VO1BT Holyrood repeater operational again. The tower (which was already due to be replaced) lost its top half in the March wind storm.
Despite a cold and windy day (-15 wind chill!), on April 19th, we were able to put some temporary measures in place to get VO1BT back on the air using the lower half of the tower and some alternate antennas.
If everything goes according to plan, we will be returning on a much warmer summer day to erect a new tower and perform some additional upgrades! This temporary fix should tie us over for now.
Also, a repair was made that brought the repeater output from around 1 watt to about 22, so you may notice an improvement even with the lower height.
For a bit of history about this site, the next tower will be the 3rd here for a ham repeater. The one pictured is the second, which was put up in the 80s. The concrete for the original tower is located behind the shack. Also, if you look closely you can see the original small shack and the larger part (with the peaked roof) which was built on afterward.